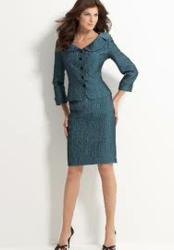 Wholesale fashion for Nigeria tips have been published in a new report by New York wholesale business CloseoutExplosion.com. The New York based business, managed by Donny Lowy, specializes in the wholesale and export of brand name department store overstock, high end store returns, liquidation merchandise, and surplus products. Many of its customers are retailers in Nigeria, and travel to the New York clothing and footwear warehouse, or place their orders online through its e-commerce overstock website.
The wholesale fashion tips report discusses important strategies, ideas, and concepts for Nigerian retailers. The report covers important tips such as:
-An Important Category That Nigerian Retailers Should Not Overlook
-Why You Should Use Marketing Material To Sell Designer Clothing
-The Best Clothing Item You Should Offer To Nigerian Bankers
-How To Enlist Designers To Help You Increase Your Sales
-The Most Popular American Brands For The Nigerian Market
-The Importance Of Purchasing Wholesale Merchandise For Your Intended Market
-How To Determine Brand Preference Among Potential Shoppers
-Why You Should Think Twice Before Stocking Your Shop With Chinese Imported Products
-Where To Find Below Wholesale Prices On Genuine Designer Wholesale Merchandise
-The Advantages Of Understanding The Reason Why Customers Buy
-How Having The Right Image In Your Boutique Can Help You Sell More
-The Importance Of Accepting Mobile Payments In Nigeria
Besides the tips covered in this report, there are many important topics covered in the wholesale for Nigeria website published by Donny Lowy, who also exports designer closeouts to Ghana, as well as throughout Africa.
"As a wholesaler who has supplied below wholesale suits, dresses, shoes, and handbags to Nigerian resellers, I know the importance of having a clear understanding of the fashion preferences of the market that you are selling to. I am happy to pass on this information to my current and potential customers, since I realize that at the rate that I can help them grow their businesses, will be the rate that my own closeout business can grow as well," said Donny, who also publishes various business websites for interesting categories such as on the
wholesale Apple iPhone 5 business and on the New York Fashion Garment District. His WholesaleNigeria.com website also covers topics such as the Lagos Fashion Week, selecting the right shopping mall to locate your boutique in, how to attract shoppers to your shop, tips on visiting the Dubai wholesale market, the coming of the fast food industry to Nigeria, and general business ideas for Nigerian fashion entrepreneurs.
"Often the critical advantage that a successful retailer has over her competition, whether she is located in Abuja, Port Harcourt, Lagos, or anywhere else for that matter, is the access to concrete business information and wholesale sources that she has. Through this report, the other articles on the site, and my unpublished closeout newsletter, I aim to providing boutique owners and market sellers with the tools that they can use to enjoy successful enterprises," added Donny, who is happy to provide free consulting advice to visitors at his Brooklyn dress warehouse.
Culled: prweb.com
WHOLESALE FASHION TIPS FOR NIGERIA PUBLISHED BY NEW YORK WHOLESALE BUSINESS..CloseoutExplosion.com
Reviewed by
Bash
on
06:48:00
Rating: